Crown land 2031
Thanks to all of the stakeholders and community members who contributed to developing and finalising Crown land 2031 - State Strategic Plan for Crown lands.
Please view the final endorsed plan Crown land 2031 (PDF, 3.7 MB) out more about how we will be implementing it over the next ten years.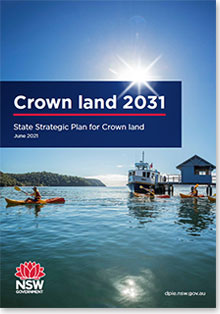 Under the Crown Land Management Act 2016 (the Act) the NSW Government is required to create a State Strategic Plan for Crown land. The State Strategic Plan sets the vision, priorities and overarching strategy for the management of Crown land and outline timeframes and outcomes.
About the draft State Strategic Plan
The draft State Strategic Plan identified four key priority areas to enable the use of Crown land to evolve and meet changing community needs.
The draft plan identified outcomes for each of these priority areas, as well as short, medium and long term timeframes from 2020 through to 2030.
A range of initiatives to support the delivery of the outcomes were also identified in the draft plan. These included:
making more of our information available and transparent
standardising leasing and licensing for common activities
engaging and supporting a new generation of Crown land managers.
Supporting documents
Developing a draft for consultation
The department worked with key stakeholders, industry, other government agencies, Crown land managers and Aboriginal representatives to develop a State Strategic Plan. The draft plan was released for public information on 10 June 2020, ahead of the formal 42-day public consultation period which commenced on 9 July 2020 and closed at midnight on 20 August 2020.
The process for developing the State Strategic Plan is outlined below: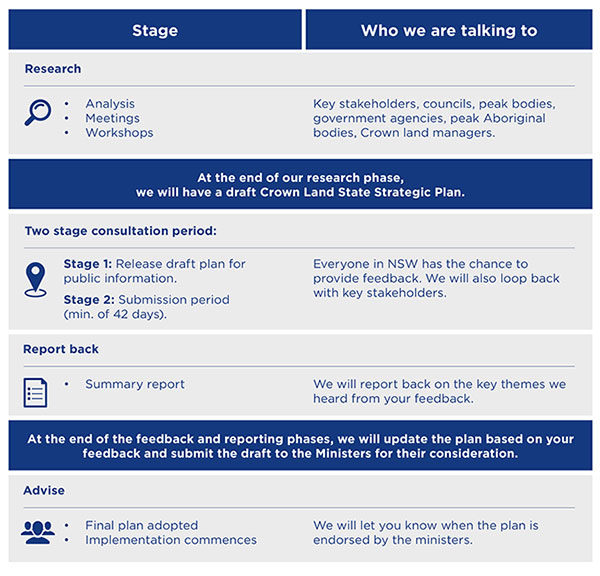 Watch a presentation on the draft plan
Information sessions
Responding to community concern regarding COVID-19, public information sessions were held on an interactive online platform on the following dates during the public consultation period:
Thursday 30 July 2020
Friday 31 July 2020
Thursday 6 August 2020
Friday 7 August 2020
Public exhibition
A 42-day public exhibition period commenced on 9 July 2020 and closed at midnight on 20 August 2020. Submissions on the draft plan were received via email, post or by the online submission form.
Thank you to all individuals and organisations who provided your feedback on the draft State Strategic Plan.
Submissions received
More than 930 submissions were received as part of the community consultation process on the draft State Strategic Plan for Crown land in New South Wales. Copies of the submissions are available in the files below, excluding those where consent to publish was not provided.
The submissions in these files are not sorted by any special order. They have been grouped according to the method of submission to enable easy download as required.
Consultation summary report
A summary report on the consultation process has been prepared and outlines how we engaged with stakeholders and the community and what we heard. It also identifies key themes in the feedback we received.
View the draft State Strategic Plan for Crown land in New South Wales consultation summary report (PDF, 6.38 MB).