New South Wales (NSW) is home to some of the most iconic and diverse spaces in Australia that are reserved for recreational activities such as camping, surfing, hiking and sport.
We manage the state's parks and reserves, multiple caravan and camping sites, and surfing and dive sites and more with other government agencies and local committees.
NOTE: For campground registration please see Tracks and Trails below.
Parks and reserves
Our parks and reserves protect unique landscapes around the state. These range from rocky bushland and the natural wonders of the World Heritage Greater Blue Mountains Area to vast recreational parklands on the foreshore and marine wonderlands such as Long Reef and Cabbage Tree Bay Aquatic Reserves off our coastline.
State parks
There are 18 state parks in NSW, most of which are located around coastal or inland water and surrounded by bushland.
State parks offer unique visitor experiences, a diverse range of recreation and family friendly facilities and activities, and a chance to reconnect with nature. Accommodation options range from basic to deluxe.
Bellinger Heads | North Coast
With a superb year-round climate; a laidback, humble and relaxed atmosphere; and marvellous beaches, the towns of Urunga and Mylestom are 2 of the region's lesser-known jewels.
For more information, visit:
Belmont Wetlands | Hunter Region
Belmont Wetlands State Park comprises 7 coastal wetlands where you can enjoy horse riding, four-wheel driving, walking, swimming and bird watching. The park features the largest single open-water wetland in Lake Macquarie. There are many walking tracks for all levels of fitness. The wetlands are home to numerous bird species, with three bird hides in the southern area of the park, on the Airshaft Peninsula.
Burrinjuck Waters | South-west NSW
Burrinjuck Waters Holiday Park is set on 75 acres on the shores of Lake Burrinjuck and the Murrumbidgee River. It is a great place to go freshwater fishing, water skiing, kayaking and other water adventures. There are some great walks, including the famous Hume and Hovell walking track. Don't forget tennis and volleyball or frisbee golf and the native wildlife.
Coffs Coast | North Coast
The Coffs Coast State Park is surrounded by beautiful beaches, foreshores, estuaries and wetlands which are perfect for surfing, swimming, diving, fishing and boating. The surrounding area has much to offer, from world heritage rainforests to a marine national park.
Copeton Waters | North Coast
Copeton Holiday and Recreation Park offers a fantastic opportunity to use and enjoy Lake Copeton, an inland water catchment 3 times the capacity of Sydney Harbour. Set on 900 hectares of rural bushland on the western slopes of the New England Ranges, this park offers a unique day trip or holiday experience
Grabine Lakeside | Central West
Grabine Holiday and Recreation Park is located on the banks of Wyangala Dam in Central NSW, which is fed by the Lachlan and Abercrombie Rivers. The dam – 2.5 times the volume of Sydney Harbour – offers 42 km of waterways with boat ramps and access points.
Harrington Beach | North Coast
The Harrington Beach State Park is a 431-hectare site that stretches from Harrington to the picturesque fishing village of Crowdy Head. It features a caravan park, lighthouse and boat harbour. The foreshores of the coastal beaches and estuary provide an array of year-round recreation and tourism opportunities, while the protected tracts of rainforests and other significant native vegetation provide habitat for many species of native animals and plants.
Lake Burrendong | Central West
Lake Burrendong offers year-round attractions for fishing enthusiasts, nature lovers, bushwalkers, campers and picnickers. Located only an hour between Dubbo and Orange, on the western shore of Burrendong Dam, the park is a fantastic base to stay awhile and explore the local area.
Lake Glenbawn | Central West
Set on the banks of Glenbawn Dam in a rural backdrop, the Lake Glenbawn Holiday and Recreation Park offers a wonderful diversity of bushland, wildlife and adventure.
Lake Keepit | Central West
Lake Keepit Holiday and Recreation Park is located about 40 minutes from Tamworth and around 25 minutes from Gunnedah. It is dog friendly, with a lot of space to walk and play with your dog. There is also a water park, skate park and BMX riding. Or you can relax and enjoy the beautiful surrounds. Lake Keepit is ideal for fishing, water sports and other activities.
Living Desert | Far West
Living Desert displays all the breathtaking beauty that the NSW outback has to offer. The 3-hour walk through the park's winding paths takes you through the stunning sculpture symposium and the plant and animal sanctuary. The cultural walk trail allows visitors to learn about local Aboriginal heritage and the importance of preservation.
Manning Entrance | Mid North Coast
The Manning Entrance State Park is on the NSW Mid North Coast, has a caravan park and basic camping ground. Great for fishing and swimming, there is also a skate park and sports field. Enjoy walking around this area and see the native flora and fauna or visit the historic air strip.
Narrabeen Lagoon State Park | Northern Beaches
The creation of the Narrabeen Lagoon State Park reflects the significance of the lagoon and surrounding public lands to the people of NSW. Enjoy bushwalking and water sports in an area rich with wildlife or take the walking and cycling trail around the entire lagoon.
Wyangala Waters | Central West and Orana
Wyangala Waters Holiday and Recreation Park is located in NSW's Central West and Orana region, only 30 minutes from Cowra. It is a tranquil place to unwind, set on the banks of scenic Wyangala Dam.
Crown reserves
Crown reserves are land set aside on behalf of the community for a wide range of public purposes including environmental and heritage protection, recreation and sport, open space, community halls, special events and government services.
Tracks and trails
There is a wide range of tracks and trails across NSW Crown land. Each year hundreds of thousands of walkers enjoy the tracks and trails we manage.
Many of the long-distance trails in NSW crossover into different tenures including Crown Land, National Parks or Forestry. Please ensure you check for all track and trail updates before leaving home.
To find out about what's happening on Crown land, visit Tracks and Trails upgrades and development.
Camping on Crown land
Visitors must register to camp on Crown land.
Please complete the camp registration form below if you will be camping on NSW Crown land recreational trails. Trails include the:
Six-Foot Track
Bridle Track
Hume and Hovell Track
Great North Walk
Clarence Canoe and Kayak Trail.
As part of the NSW Government's efforts to stop the spread of COVID-19, we ask for your contact details when you camp on Crown land sites.
This information will be used to help track any COVID-19 cases connected to our campgrounds and for no other purpose. We will only give this information to the government as part of a COVID-related request, and it will be kept in accordance with our privacy policy for a minimum of 28 days. This is not a booking form. Camping on these sites is free and we do not take bookings.
This is NOT a booking form. Camping on these sites is free and we do not take bookings
Fire Danger
Emergency warning: If Extreme or Catastrophic fire weather is forecast, or there are existing bushfires in the vicinity, trails will be closed to walkers in these areas.
For more information, visit the Rural Fire Service website, or National Parks and Wildlife Service website or NSW Forestry Corporation.
Maps
There are countless kilometres of walking, riding and paddling tracks and trails and accompanying picnic areas and more to explore in NSW.
To buy map kits for tracks and trails, contact cl.enquiries@crownland.nsw.gov.au. We will establish a new system to allow online ordering of map kits by October 2022. You can also buy maps at local Visitor Information Centres including the Blue Mountains, Yass, Tumut and Wagga Wagga.
Abrahams Bosom Tracks
Currarong
Distance/time: 8 km/1 day
Grade: easy
Activities: snorkelling, fishing, surfing, walking, running, cycling, dog walking, swimming
Abrahams Bosom Tracks include around 8 km of walking tracks winding around Beecroft Peninsula near Currarong on the NSW south coast. The tracks pass through coastal heath vegetation and along sandstone cliffs with magnificent views up and down the coastline. Only a 35-minute drive from Nowra, the track is accessible to people of all ages and fitness levels, dog owners and bicycle riders, with several spots being ideal for fishing, surfing, picnicking and snorkelling.
The Six Foot Track
Blue Mountains National Park
Kanangra-Boyd National Park
Grade: hard
Distance/time – 46 km/2–3 days
The Six Foot Track is currently closed between Jenolan Caves Cottages and Jenolan Caves as a result of works underway at Jenolan Caves.
Jenolan Caves are being revitalised; infrastructure will be renewed and upgraded. For project information, visit the Jenolan Caves website.
Jenolan Caves Road, south of Jenolan Caves Cottages, is also closed to pedestrians and vehicles. Access to Jenolan Caves is only available by means of the 'Two Mile' via Edith Road. For road access information and the latest traffic updates, download the Live Traffic NSW App and visit livetraffic.com or call 132 701.
Vehicular access to Jenolan Caves Cottages, where the closure of the Six Foot Track begins, is still available. Please see National Parks and Wildlife Service website.
The iconic Six Foot Track is a 46-km route following the original horse track from the Explorers Tree, Katoomba, to the Jenolan Caves. The track winds through the Blue Mountains National Park and takes in various landscape and heritage features within the Blue Mountains World Heritage area such as Mount York, Nellies Glen, Megalong Valley and more.
The Hume and Hovell Track
Yass to Albury
Distance/time: 416 km/24 days, shorter walks and various day walks available
Grade: hard
Activities: running, hiking, trekking, walking, camping, fishing, swimming, sailing, boating, water-skiing, cycling
The Hume and Hovell Track stretches over 416 km between Cooma Cottage, Yass and the Hovell Tree on the banks of the Murray River in Albury, passing through the town of Wee Jasper and near the towns of Tumut, Talbingo and Tumbarumba.
There are 3 tracks which are approximately 100 km apart and suitable for car-based camping:
James Fitzpatrick at Wee Jasper
Thomas Boyd on the Goobarragandra River, 23 km from Tumut
Henry Angel on Burra Creek near Tumbarumba
The Great North Walk
Sydney to Newcastle
Distance/time: 250 km/14 days, shorter walks and various day walks available
Grade: hard
Activities: hiking, running, trekking, walking, camping, cycling, fishing, surfing, dog-walking, swimming
Initially constructed as a celebration of the bicentenary of European settlement in Australia in 1988, The Great North Walk provides many different entry points. It has approximately 100 km of linked tracks that connect the walk to the Pokolbin vineyards and the Sydney–Newcastle bus and railway lines.
The Wiradjuri Walking Track
Wagga Wagga
Distance/time: 42 km/1 to2 days
Grade: easy to moderate
Activities: walking, cycling, fishing, dog walking, swimming
The Wiradjuri Walking Track follows a 42-km trail around the city of Wagga Wagga. It starts from the Wagga Wagga Visitor Information Centre, along the Murrumbidgee River to the Railway Viaduct, through town looping around Lake Albert, Murrambidya Wetlands and back along the river to return to the centre.
The Bicentennial National Trail
Cooktown, Queensland to Healesville, Victoria
Distance/time: 5,330 km/6 to7 months minimum
Grade: challenging
Activities: walking, trekking, cycling, horse riding
The Bicentennial National Trail follows the designated travelling stock reserves (TSR) in NSW, passing through some of the Gondwana Rainforests of Australia World Heritage Area and various Crown reserves, state forests and national parks.
Fivebough Wetlands Loop
Leeton
Distance/time:5 km/2 hours
Grade: easy
Activities: Walking, bird watching
The Fivebough Wetlands Loop takes in the internationally listed Ramsar Fivebough Wetlands, 2 km from Leeton NSW. The walk begins and ends at the Badyaan Baamira Information Centre and winds around the main basin of the wetlands. There are benches and bird viewing shelters along the way.
Bridle Track
Bathurst to Hill End
Distance/time: 70 km/1 day
Grade: moderate
Activities: walking, horse riding, cycling, four-wheel driving, fishing, camping, swimming, dog walking
The Bridle Track is a 70-km, 4WD trail from Bathurst to Hill End, following the course of the Macquarie and Turon Rivers. It is currently blocked at Monahan's Bluff.
Silverton Cycleway
Silverton
Distance/time: 8 km/half a day
Grade: easy
Activities: walking, cycling
The Silverton Cycleway first stage is an 8-km section within the Silverton Common. Eventually the cycleway will be a 23-km elevated recreational cycleway following the former Silverton Tramway from Silverton to Broken Hill.
Nail Can Hill Trail
Albury
Distance/time: 11.3 km/1 day
Grade: moderate to hard
Activities: walking, cycling, running, hiking
The Nail Can Hill Trail Complex comprises a series of mountain bike trails that are looked after by Albury Wodonga Mountain Bikers.
Bundian Way
Distance/time: 265 km
Grade: moderate to hard
Bundian Way is an ancient Aboriginal pathway from Mt Kosciuszko to the coast that has reopened as an Aboriginal-managed cultural tourism experience. For maps, reports and background, visit the Bundian Way.
Caravan and camping sites
There are over 260 caravan parks, camping areas and tourist accommodation sites located on some of the most beautiful Crown land.
We have redesigned the Caravan and Camping on Crown Land NSW website. A range of caravan and camping sites on Crown land are at your fingertips on a modern, accessible and mobile-friendly website.
The website showcases accommodation facilities available on Crown land and includes an interactive map for tourists to search for parks across NSW.
These caravan and camping sites give you the opportunity to stay in a wide range of diverse and unique environments, from the beach, the mountains, to the outback.
Check out the new Caravan and Camping on Crown Land NSW website today!
Dive sites
The ex-HMAS Adelaide dive site is located approximately 1.8 km off Avoca Beach, near Terrigal on the Central Coast. It is an ideal place for experienced divers.
Scuttled in 2011, it's now a 32-metre deep dive site that supports local tourism and attracts divers from around the world.
Before diving on the site, you will need to apply for an entry permit and book a mooring.
Dive Masters should take precautions when taking divers near the damaged accommodation structure.
Make a booking
To book a mooring or get an entry permit (dive permit), email hmas.adelaide.bookings@crownland.nsw.gov.au for booking forms.
After the department receives your completed form, we will respond within 2 business days.
Find out more about the Ex-HMAS Adelaide at VisitNSW
Frequently asked questions
1. How can I dive the ex-HMAS Adelaide?
There are several ways that you can experience the ex-HMAS Adelaide. Each diver, however, will require an entry permit before diving and must access the site from aboard a boat with a prior mooring booking.
Several commercial operators offer dive tours to the ex-HMAS Adelaide.
You can also dive the ex-HMAS Adelaide from a private boat. To do this, get an entry permit and book a mooring with the Department of Planning and Environment – Crown Lands (the department) by emailing hmas.adelaide.bookings@crownland.nsw.gov.au
2. How do I book?
You can book dive tours through commercial operators servicing this dive site location. Alternatively, dive club and independent, experienced divers, may choose to book a mooring.
To book a mooring or to get an entry permit, email hmas.adelaide.bookings@crownland.nsw.gov.au for booking forms.
After the department receives your completed form, we will respond within 2 business days.
3. When can I dive the Ex-HMAS Adelaide?
The ex-HMAS Adelaide Reserve is currently open daily between 6.00 am and 6.00 pm. Night diving is prohibited.
Occasionally, after significant weather events such as severe storms or unusually high swell, access to the reserve will be suspended so that marine engineers can inspect the wreck and confirm it is still safe to use as a dive site.
People who have made a booking for moorings or been issued an entry permit will be advised by email if and when this happens. Local dive tour operators will also be advised.
4. What qualification level do I need to dive the Ex-HMAS Adelaide?
If diving, you must comply with Australian Standard AS4005.1 or International Standard ISO 24801-02 (Diver Level 2 - Autonomous Diver) as a minimum level of certification. The site is not suitable for inexperienced divers, unless a qualified guide accompanies you.
You must be able to produce evidence of your diving qualifications (for example, Certification Card or 'C' card):
to the dive operator if you have booked a commercial dive tour
to the skipper of your vessel if you are participating in a private or club dive
or if requested by the department or the department's authorised agent.
Occupational divers must ensure that they comply with all relevant SafeWork NSW requirements, including but not limited to complying with Australian Standards AS2299 and AS2815. Occupational divers must have the appropriate qualifications for occupational diving.
Penetrative diving of the wreck is not permitted at a depth beneath 30 metres.
5. How many moorings are available?
Currently, there are 4 operational moorings. The existing moorings are shown in the diagram below. Two moorings have been removed from the original 6.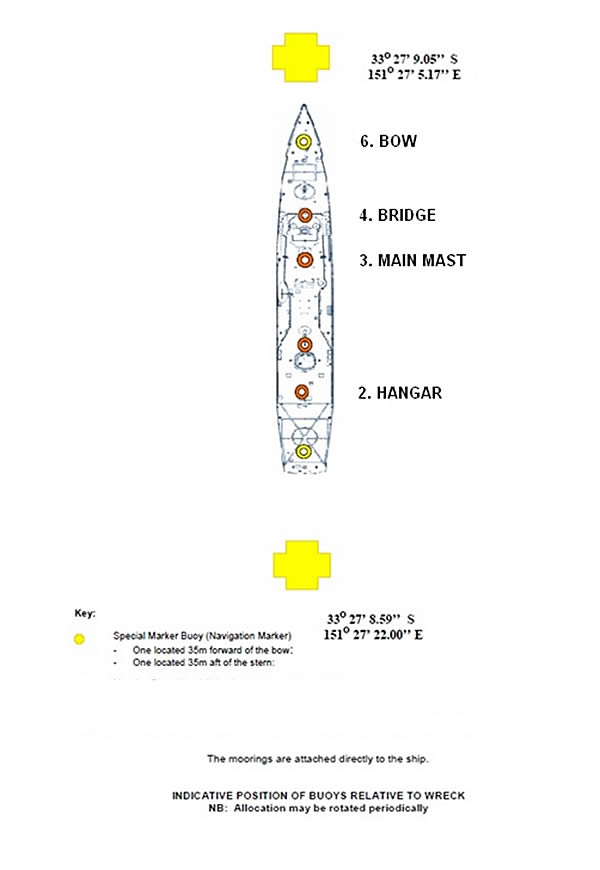 6. How much are entry permits?
There is currently no charge for an entry permit. This is likely to change in the future.
7. How much is a mooring booking?
There is currently no charge for a mooring booking. This is likely to change in the future.
Mooring bookings are for 2-hour timeslots. Timeslots have been set to allow a safe and comfortable diving experience.
To avoid congestion in the water, there is a maximum of 14 divers allowed per mooring at any one time.
8. How much would an entire dive cost, including permit and mooring?
There is currently no charge for any entry permit or mooring booking. This is likely to change in the future.
Prices for entire dive experiences will vary depending on whether you arrange your dive through a commercial dive operator. Extra costs may apply depending on whether you have your own diving equipment or are hiring equipment.
Contact commercial dive operators for quotations on diving packages to suit your specific needs.
9. Why will there be fees to enter this dive site in the future?
Currently, no fees are charged to access the dive site. However, this is likely to change in the future.
A Crown reserve (known as the HMAS Adelaide Reserve) has been declared over the final resting place of the ex-HMAS Adelaide. The reserve is regularly inspected to ensure both diver safety and to record any environmental changes. The moorings and marker buoys also need to be maintained and occasionally replaced.
Revenue generated from entry permits and mooring bookings will contribute to offsetting these expenses so that the artificial reef remains a safe diving experience and becomes a world-class dive attraction.
10. What are the dive conditions like?
Like any dive site, it is advisable to talk to experienced local dive operators to understand the surrounding oceanic conditions. This will help you make appropriate decisions about whether a dive should go ahead. The site can be affected by both waves and currents, and water temperatures average between 18°C in winter to 24°C in summer.
11. Are there any special hazards on the dive site?
Yes.
Divers are prohibited from accessing the interior of the wreck at depths greater than 30 metres because of the high risks of entering an enclosed space at these depths.
Science
About "Artificial Reefs"
The ex-HMAS Adelaide was prepared and sunk to create an artificial dive reef.
An artificial reef is a structure placed on the sea bottom to attract new marine life to an area. Artificial structures have been purposely placed in marine environments across the world to enhance fishing opportunities, to serve as dive sites, to assist in coastal protection, deter trawling activity and to reverse habitat loss.
The reef develops over time and experiences different stages of marine growth and occupation, to eventually become the kind of dive site with marine life which make sites like the SS Yongala in Townsville, Truk Lagoon in Micronesia and the S.S. President Coolidge in Vanuatu world renowned.
When a 'new' structure is introduced to the marine environment, tiny organisms such as microscopic algae present in ocean waters land on the structure's surface, creating a first layer of 'slime'. Layer upon layer of more micro-organisms slowly settle on these surfaces, creating a food source for many more permanent and visiting organisms. Eventually, a more prominent community develops on the surface of the structure. The layers of marine organisms are what is called a 'reef' and provide the structure for marine organisms to create a true habitat in and around. There is nothing 'artificial' about the marine community that develops; this term simply refers to providing the new structure for organisms to settle upon.
The many fish located at any reef, natural or artificial, start out as eggs drifting in the ocean's waters. The eggs hatch into either drifting or actively swimming 'larvae' before further development leads to transformation into a juvenile fish, and later an adult fish. A combination of different factors determines what fish we see in any marine habitat. Factors such as natural predators and competition for space and food will determine if a young larval fish will take up residence at any new site. The location of both near and far away habitats that are home to a fish's parent population will also influence what fish species make up a developing marine community. A new space to settle, as well as meeting the other biological and environmental needs of the organisms making up the marine community, leads to the development of a new marine community at an artificial reef site.
See the technical environmental monitoring reports that detail the development of the reef community below.
Environmental monitoring and reporting
Australian law regulates the creation of artificial reefs under the Environment Protection (Sea Dumping) Act 1981 (Commonwealth).
A Sea Dumping Permit ensures that appropriate sites are selected, materials are suitable and appropriately prepared, that there are no significant adverse impacts on the marine environment and that the reef does not pose a danger to marine users. A permit was issued for the ex-HMAS Adelaide after a comprehensive environmental assessment was compiled. Download the
Ex-HMAS Adelaide Review of Environmental Factors report. (PDF, 13.36 MB)
Download a copy of the updated Sea Dumping Permit (PDF, 662.71 KB).
The Administrative Appeals Tribunal also considered the comprehensive range of environmental issues in reviewing the permit that the Australian Government issued and allowed the scuttling to proceed. You may download the decision of the Administrative Appeals Tribunal decision (PDF, 402.74 KB), or alternatively the plain English summary (PDF, 179.32 KB) of the decision.
An ongoing condition of the Sea Dumping Permit is that the Department of Planning and Environment must carry out a long-term monitoring and management plan (LTMMP) to monitor the condition of the ex-HMAS Adelaide. The department completed an updated version of the plan (PDF, 7.52 MB) in 2018.
In 2016, a review of the ecological monitoring of the ex-HMAS Adelaide Reserve (PDF, 3.26 MB) was conducted to coincide with 5 years since the scuttling. The report summarised the data of studies up until this date.
All monitoring reports are available below.
Environmental and structural monitoring
Environmental and structural integrity monitoring has been carried out for the ex-HMAS Adelaide in accordance with the requirements of the Long Term Monitoring and Management Plan (PDF, 7.52 MB), which is a condition of the Commonwealth Sea Dumping Permit (PDF, 662.71 KB).
Post-Scuttling Report April 2011
This report confirms the date and time of placement, position, water depth, inspection dives and position of navigation markers.
Reef community and sediment movement
The developing ex-HMAS Adelaide reef community is being monitored to document the types of plant and animal collections appearing over time, to understand the rate of development of fouling assemblages (the buildup of organisms such as barnacles) for the season, time and different surfaces of the vessel, and to identify if any introduced species are present.
Each reef community monitoring report is available to download below.
Sediment sampling
Sediment quality and movement have been measured by sampling the seabed to examine how metal corrosion and degradation of protective paint layers could potentially influence the surrounding environment, and to understand sediment movement patterns around the vessel, accumulation rates and scour depths.
Each monitoring report is available to download below.
Bioaccumulation studies
Bioaccumulation monitoring is required as a condition of the permit, to determine whether resident marine species are likely to be affected by zinc chromate paint, which may have been used originally on the aluminium alloy of the vessel as an anti-corrosive application.
Each monitoring report is available to download below.
Structural reports
A condition of the long-term monitoring and management plan is for regular structural inspections and assessments be conducted. The ex-HMAS Adelaide has settled on the ocean floor in an upright position. Download a diagram (PDF, 670.4 KB) showing the depth measurement and ship schematics.
Diver's inspection reports
Qualified commercial divers regularly inspect the ex-HMAS Adelaide and report on the condition of the wreck.
Recent diver's reports are available below.
Engineers reports
Marine engineers review the divers' reports, assess the condition of the wreck and identify any factors that may require ongoing monitoring.
Recent engineer's reports are available below.
Surfing reserves
Surfing reserves are areas protected for use by the general public and surfing community. These sites have an environmental, cultural or historical significance in Australian surf culture. This recognition also helps raise awareness about the importance of protecting our precious coastal environment.
We've partnered with the National Surfing Reserves (NSR) Organisation to make sure the sites are protected for generations to come.
There are 24 protected sites along Australia's 37,000 km of coastline. Some of the most popular sites in NSW include:
Angourie National Surfing Reserve, on the north coast near Yamba, was the first legally protected National Surfing Reserve in NSW. Angourie is legendary among the surfing community for its breaks and natural beauty.
Crescent Head National Surfing Reserve stretches across 3.5 km of spectacular coastline north of Port Macquarie. Crescent Head became a well-worn trail for surfers following World War II and is known as a breeding ground for longboard surfing in Australia.
Lennox National Surfing Reserve is just north of Ballina on the north coast and includes the world-famous Lennox Point. The breaks at Lennox have been surfed by thousands of people since the late 1950s, when surfing gained popularity throughout NSW.
Cronulla Beaches National Surfing Reserve is one of southern Sydney's premier surf spots. It's home to a number of former world champion surfers, as well as other influential figures in Australian surfing.
Merewether Beaches National Surfing Reserve is one of Newcastle's iconic surfing beaches. The 2 km of spectacular coastline stretch from Dixon Park in the north to Burwood Beach in the south.
Killalea National Surfing Reserve covers The Farm and Mystics beaches within the Killalea State Park, near Shellharbour on the south coast. The state park is 250 hectares and includes some of the best surfing beaches on this coast.
North Narrabeen National Surfing Reserve is a popular surfing beach on Sydney's northern coastline. The 1-km shoreline includes part of the Narrabeen Lagoon, which plays a role in the natural process of the unique breaks.
Lighthouses
For more than 180 years, lighthouses have served an important purpose in providing safe maritime navigation along the NSW coastline, warning ships of headlands, bars and reefs.
During the 19th century, trade via shipping was an essential part of establishing early European settlers in Australia. Shipwrecks became a frequent event in some dangerous coastal locations. To address this, colonial authorities began to build lighthouses along the coastline. Many of these lighthouses remain functional and continue to provide safe navigation to ships, despite significant advancements in technology.
Because of their historical significance, location and architectural values, the lighthouses are also tourist attractions. Our role is to maintain the lighthouse lands and buildings. NSW Roads and Maritime Services maintain the lights to ensure the safety of our boating community.
We manage 14 lighthouses across the state:
Burrewarra Point Lighthouse
Warden Head Lighthouse
Crookhaven Heads Lighthouse
Kiama Lighthouse
Wollongong Breakwater Lighthouse
Wollongong Head Lighthouse
Norah Head Lighthouse
Nobbys Head Lighthouse
Crowdy Head Lighthouse
Tacking Point Lighthouse
Clarence River Lighthouse
Evans Head Beacon
Richmond River Lighthouse
Fingal Head Lighthouse
For more information on lighthouses in NSW, visit Roads and Maritime Services.
Dams
Across the state, water is held in many hundreds of dams for a variety of purposes including major irrigation, agriculture, domestic supply and public recreation. Storages can also provide a valuable resource during flood times by holding back water, delaying and reducing flood peaks downstream.
We are responsible for a number of small dams across NSW. These include Bethungra, Bargo and De Burgh in the south of the state, West Gosford on the Central Coast, Burraga, Gallymont and Junction Reefs in the central west and Moore Creek and Sheba dams in the north west.