The department is responsible for ensuring compliance with The Crown Land Management Act 2016 (CLM Act) and The Roads Act 1993 so that Crown land and Crown public roads are appropriately used and occupied.
We have an active and risk-based compliance and enforcement regime to help protect Crown land against illegal activity that threatens environmental values or the enjoyment of Crown land by the public. 
This includes activities like unauthorised development on Crown land and waterways, dumping, clearing of vegetation, storage of personal materials and antisocial activities that would impact the public's use and enjoyment of the land or waterway.
The department encourages tenure holders and the community to voluntarily comply with the provisions of these Acts and other relevant legislation in relation to the use of Crown land. Where non-compliance is detected, however, the department will use relevant powers and take appropriate action to ensure the use of Crown land is in accordance with the objects and principles of the Act. 
Compliance activity is based on 4 key principles:
education and awareness
monitoring
auditing
compliance investigations
We monitor the use of Crown land and waterways through inspections, audits and aerial photography, undertaking enforcement action when required. We also encourage the public to report suspected unlawful or suspicious activity occurring on Crown land to the department.
We are guided by our compliance and enforcement policy (PDF, 282 KB) and guidelines (PDF, 601 KB). You can find more information in the fact sheet.(PDF, 417 KB)
Find more information about approved uses of the Crown estate including guidelines, fact sheets and FAQs
We use contemporary enforcement and protection powers
We enforce:
penalties that are consistent with environmental legislation. To deter compliance issues on Crown land, corporations receive higher penalties than individuals
the issuing of rectification and remediation notices to ensure the restoration of damaged or contaminated Crown land to its former condition
the issuing of orders to ensure people remove materials or structures illegally placed on Crown land
stop-activity orders on the spot to stop or prevent unlawful, unsafe, or dangerous activities taking place on Crown land
an extended 2 year timeframe to report and investigate breaches, enabling the greater ability to prosecute offences.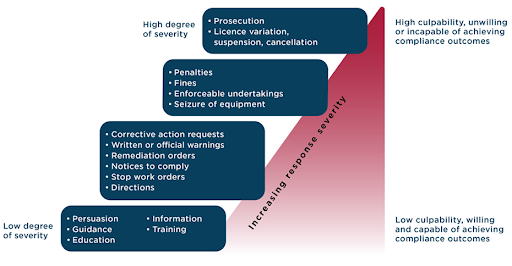 Help us by reporting an issue
We need your help to keep our state's Crown land sustainable and safe for all. Please report it if you observe any suspicious activities, including the following, on Crown land:
illegal dumping of rubbish or toxic or hazardous substances
abandoned vehicles
clearing of vegetation or removal of timber and soils
safety hazards 
suspected unauthorised works on Crown roads
suspected unauthorised use of or access to the land
When reporting the issue, please include as much detail as possible so we can correctly locate the incident and arrange for the appropriate follow-up.
You can contact us to report an issue or concern regarding Crown land management.
You can also report the illegal dumping of waste to the Environment Protection Authority (EPA).
Consider the following options:
Is the dumped waste an emergency? Does it include toxic fumes or large chemical spills? Call 000 and report it immediately.

Is the dumped waste an immediate threat to human health or the environment? Call EPA Environment Line on 131 555.

For all other illegally dumped waste report it via RID ONLINE, the EPA's online public reporting system.
Our Crown Lands Compliance Strategy 2020-23 
We oversee a range of programs and activities that promote compliance with the law and monitor non-compliance while balancing the use of public assets for private benefit.
The Crown Lands Compliance Strategy 2020–23 (PDF, 12.24 MB) outlines our planned and proactive approach to managing important matters within the department's land administration operations. We take our role as land managers seriously and this strategy ensures that priority issues are monitored and addressed, facilitating sound regulatory management of the Crown estate.
A key focus of the 3 year compliance strategy is to provide education, promote self-compliance and reduce the level of non-compliant activities on Crown land through greater awareness. 
It delivers on the public's right to expect competent and fair management of public land underpinned by the Crown Land Management Act 2016. 
It also safeguards the preservation of our natural and built environment to be used and enjoyed by the NSW community now and into the future.