The former Empire Bay Marina structures will be removed as the site is significantly contaminated and engineering advice warns the building is unstable and at risk of collapse during site remediation works.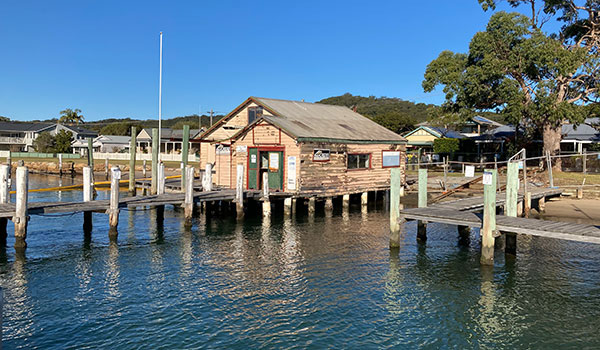 The site comprises a boatshed, jetties, slipway, underground fuel tanks, and a concrete hardstand area.  
Removal of the infrastructure is needed to allow for the safe remediation of soil contamination at the site to ensure it is safe for the community and environment.
The decision comes after expert advice from structural engineers. The boatshed is dilapidated, structurally unsound and access should be strictly prohibited in and around it for public safety.
The intention is to restore the site to usable public open space. The feasibility and costs of rebuilding a replica structure will be also investigated as a potential option.
Crown Lands is currently addressing planning requirements for the removal of the boatshed and will develop a Remedial Action Plan to address contamination remediation.
Supporting documents:
Background
In late 2020, Crown Lands revoked the Empire Bay Marina operator's licence due to significant and ongoing breaches of the licence conditions, and the licence holder's failure to rectify the issues despite repeated requests.
Building condition and structural engineer's reports from 2020 and 2022 found the boatshed has major structural defects, is structurally unsound and unsafe, and does not comply with the Building Code of Australia. The jetties are in poor condition and unsafe, the underground fuel tanks have not been appropriately decommissioned, and lead-based paint is peeling off external walls.
Crown Lands commissioned a Detailed Site Investigation (DSI) July 2021. The DSI found higher than acceptable levels of contamination at the former marina, from sources likely including fuel, oil, lead based paint, asbestos and antifouling chemicals.
In May 2022, The NSW EPA declared the site significantly contaminated under the Contaminated Land Management Act 1997.
In July 2022,SafeWork NSW issued an Improvement Notice. The notice states that the underground fuel tanks and associated equipment must be removed by 1 August 2023. This includes all fuel lines and vents.
As well as contamination and structural issues, other constraints on the former marina include its location in a now established residential area with no legal vehicle access, parking or sewerage.
Alternative marina facilities are available in Brisbane Water at nearby locations including Koolewong, Booker Bay and Killcare.