Community liaison group for Norah Head Lighthouse Reserve
Expressions of interest are invited from the public to become members of a Community Liaison Group that will help ensure the Norah Head Lighthouse Reserve on the Central Coast is protected for future generations to enjoy.
Reflections Holiday Parks, a Crown land manager which manages Crown land holiday parks across the state, is the appointed manager of the Norah Head Lighthouse Reserve.
It will work alongside local Norah Head reserve volunteers to protect and maintain the much-loved headland for continued community access and enjoyment. 
Reflections CEO Nick Baker said Norah Head Lighthouse Reserve is one of the Central Coast and NSW's most prominent Crown land reserves.
"Located on Darkinjung Country, the architecturally significant Norah Head Lighthouse and its three cottages are located on almost 20 hectares of coastal nature reserve making it a significant landmark and a highly popular tourist attraction," Mr Baker said.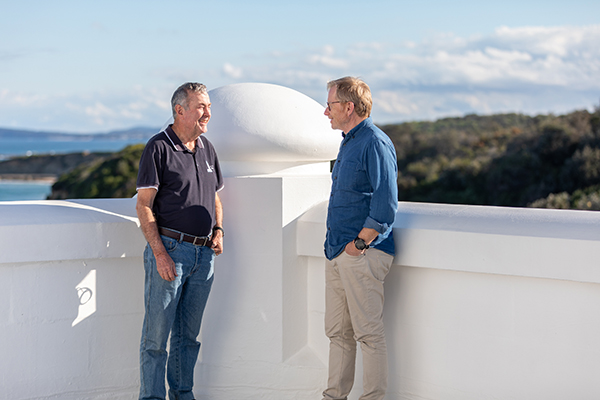 Reflections is a social enterprise that manages Crown reserves and reinvests any profits back into the land it manages.
The Community Liaison Group will have representation from a cross-section of the community to ensure it has a voice in the ongoing management of the reserve for public enjoyment. 
Reflections will be guided by the Management Plan for the reserve and continue to work with local volunteers who care for the site in roles ranging from gardeners to tour guides. 
Reflections Group Operations Manager Cameron Tynan paid tribute to the many hours that volunteers and the previous Board had dedicated to preserve the reserve.
"We are committed to working with the community to protect and preserve the environmental, cultural and heritage values of this important community asset."
Neil Rose, the outgoing chair of the Board who will continue to volunteer his time to maintain the reserve, said Reflections' appointment to manage the reserve came at the right time.
"We are a voluntary board and the business is getting very demanding as the number of visitors coming to the reserve increases every year," Mr Rose said.
"It's appropriate to bring the operations of this iconic site under increased corporate governance with a greater focus on the management of the Reserve – it's an exceptional site that should be maintained."
The Norah Head Lighthouse Reserve offers three guest cottages which are popular accommodation destinations for wedding groups and families. 
For more information on the Community Liaison Group and how to apply, visit the website. 
For further information on Reflections Holiday Parks visit: www.reflectionsholidayparks.com.au