Access to Gosangs Tunnel and Mermaids Inlet at Abrahams Bosom Reserve, Currarong (also known as Beecroft Peninsula) will be closed to the public as a safety measure, to allow for assessment of its long-term future.
After ongoing wet weather, a visual assessment has determined the need to close both attractions to the public while geotechnical engineering assessments and management plans to guide the future of both the tunnel and inlet can be completed. The main concerns relate to overhanging rocks and cracks in fault lines.
Although there have not been any reported incidents relating to rock falls or movement, this action is based on public safety and the need to assess any potential risks within the reserve.
During this time, we will be installing temporary exclusion fencing and signage at key access points along the trails.  We ask that you do not enter the site and observe warning signs. Please report any vandalism to customer service 1300 886 235 or cl.enquiries@crownland.nsw.gov.au.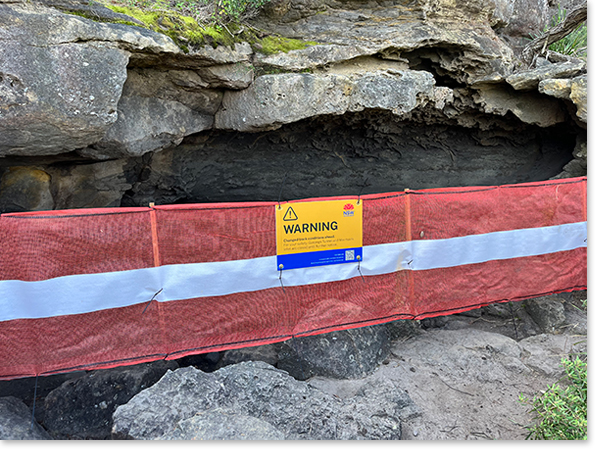 Will Gosangs Tunnel and Mermaids Inlet be open once the investigation is complete?
The future management of the tunnel and inlet will be subject to the results of the engineering report and management plan. At this stage Crown Lands cannot commit to reopening the tunnel or the inlet once the investigations are complete
Who has been notified?
We have notified key stakeholders and will continue to provide updates to these stakeholders. Key stakeholders include Shoalhaven City Council, Shoalhaven Tourism, Currarong Community Association, Currarong Fishing Club, Shoalhaven Bushwalkers, Destination Sydney South.
Will the community be consulted over the future management of the site?
Crown Lands will continue to inform the community of updates on the engineering assessment and management of the tunnel and inlet. Crown Lands will be guided on the results of the engineering assessment when determining the future management of the tunnel and inlet and will inform the community once a decision has been made.
Is the remainder of Abrahams Bosom (Beecroft Peninsular) open?
Yes. This assessment is only isolated to land directly affecting Gosangs Tunnel and Mermaids Inlet. The remainder of the reserve is open for recreational use.
The main circuit is called Coomies Walk that traces around the headland, leading to various points of interest including Lobster Bay (great snorkelling), Cliff Edge Lookout, Merimbula Trig Station and an Aboriginal Rock Shelter. Wreck Walk leads to Whale Point, Wilsons Beach and the 1928 shipwreck of the S.S.Merimbula.
For more information on things to do in the area, contact Shoalhaven tourism 1300 662 808 or tourism@shoalhaven.nsw.gov.au.