Sunken ship brings pink coral back from the brink
Media Release | 27 October 2022
One of NSW's most unique Crown reserves – the wreck of ex-HMAS Adelaide on the Central Coast – has become a vital sanctuary for a rare pink coral.
NSW Government scientists are taking samples of the marine species to repopulate waters after it almost became locally extinct following recent floods
Minister for Agriculture Dugald Saunders said the Cauliflower Soft Coral provides important habitat for marine species including snapper, wrasses, crabs, molluscs and endangered White's Seahorse.
"When our scientists dived to take samples of the Cauliflower Soft Coral early this month, they were blown away by its abundance on the HMAS Adelaide where it increased its coverage by about a quarter since a survey in 2020," Mr Saunders said.
"This soft coral provides critical habitat for the endangered White's Seahorse and is a home for many other species, which is why our scientists have taken so much care to grow samples from the wreck in the NSW DPI aquarium so they can be transplanted into the wild to regrow."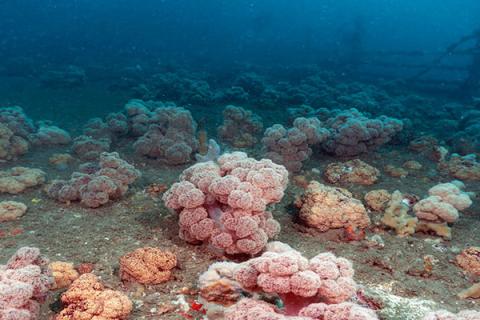 The former HMAS Adelaide was scuttled in 2011 off Avoca Beach to create a Crown reserve for diving and support regional tourism, and has since become a rich haven for sea life.
HMAS Adelaide sits at a depth of 27 metres so Cauliflower Soft Coral is able to thrive on its structure which is now an artificial reef with all types of marine life including blue groper, the giant Australian cuttlefish and wobbegong sharks.
Crown Lands has invested over $115,000 to make the wreck safer for diving by cutting off hazardous sections, clearing obstructions and flushing sediment so scientists can do their work and recreational divers can enjoy this incredible site."
Department of Primary Industries Senior Marine Scientist David Harasti said the pink coral – Dendronephthya australis – resembles a cauliflower but is as soft as a sponge.
"Cauliflower Soft Coral is very sensitive to changes in salinity which the floods reduced in water to depths of 10 metres in the estuaries, causing significant declines in Brisbane Waters and  Port Stephens," Dr Harasti said.
"We've received $124,000 from the NSW Environment Trust for a three-year project to take small coral cuttings from the wreck to grow and transplant back into the wild to help repopulate areas where the species has disappeared."
Soft coral cuttings are also going to SEA LIFE Sydney Aquarium to grow a conservation population to help ensure its survival.