$5 million upgrade to Crown land holiday park at Hawks Nest
A $5 million investment in improvements to the Crown land holiday park at Jimmys Beach near Hawks Nest has been completed and officially opened to support regional recreation and tourism leading into summer.
Upgrades to the Reflections Holiday Park include eight new solar-powered premium cabins for up to five people, an easy access cabin for up to four people, a large saltwater pool and high-speed Wi-Fi.
Two new glamping safari tents will also be available from the end of the month.
Parliamentary Secretary for the Hunter Taylor Martin helped open the new facilities which he said will attract more visitors and strengthen regional tourism and business spending.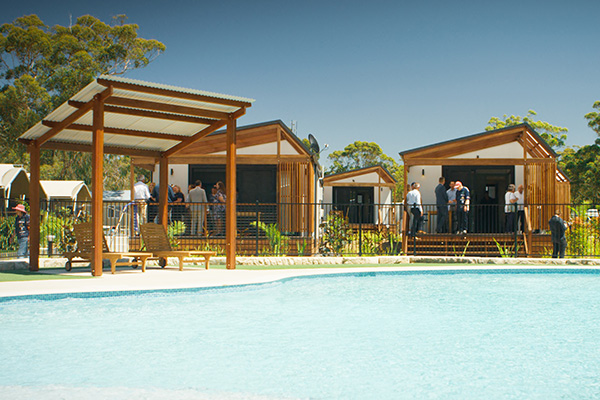 "The diverse range of high-quality accommodation now provided by Jimmys Beach is good news for the region, with incoming guests supporting local businesses and experience operators," Mr Martin said.
"These guests can also holiday knowing they are supporting a business which invests in sustainable travel and focuses on social and environmental good."
Reflections Holiday Parks CEO Nick Baker said Jimmys Beach is a gateway to Hawks Nest and the surrounding Great Lakes district with about 50,000 visitors from the park currently spending around $2.2 million in the area each year.
"This visitor spend will grow to about $3.5 million now this premium guest experience is ready for bookings in summer and beyond," Mr Baker said.
Reflections Holiday Parks manages 37 holiday parks and 43 community reserves on Crown land in NSW.
It has become the first holiday park group in Australia to be certified as a social enterprise, with any surplus from its operations reinvested in the 9,554 hectares of Crown land that it manages.
In 2022, Reflections reports it generated $83.2 million in economic value for regional NSW with a goal to deliver $1.3 billion in cumulative economic value to regional  communities by the end of 2030.